The month of March is celebrated by Ghanaians on the continent and in the diaspora as a marker of the African nation's independence. During this time, the culture and the history of the people are highlighted and celebrated. Ghanaian nationals who are lifting the flag high are also spotlighted as a thing of pride. In line with this, EdwardAsare.com set out to interview Lawrence Agyei, a young professional cyclist and engineer merging his two passions in innovative ways.
My attention was drawn to Lawrence a few days ago after videos and pictures of him hit the internet for his work in designing and building a battery-powered bicycle all by himself. Social media networks Facebook and Twitter were sent into a frenzy which necessitated that we interview the young man to find out more about him.
Lawrence Agyei is a 26-year-old man living in Accra, Ghana. As a child, he has always dreamed of becoming the best road race cyclist in Ghana after discovering the sport at a young age. In 2013, after watching some cycling competitions, he made up his mind to pursue the sport professionally. Prior to this, Lawrence had been tinkling with electrical engineering since the young age of 11.
With no prior formal or professional training, Lawrence was intuitively navigating electrical engineering as a kid. Looking to gain formal training, he enrolled in an electrical engineering program with Emit Electronic Institute in the heart of Accra. After two years there, Lawrence dropped out to pursue another but closely related branch of engineering. He started a Hardware and Network engineering program at IPMC, one of the top-rated private schools in Ghana.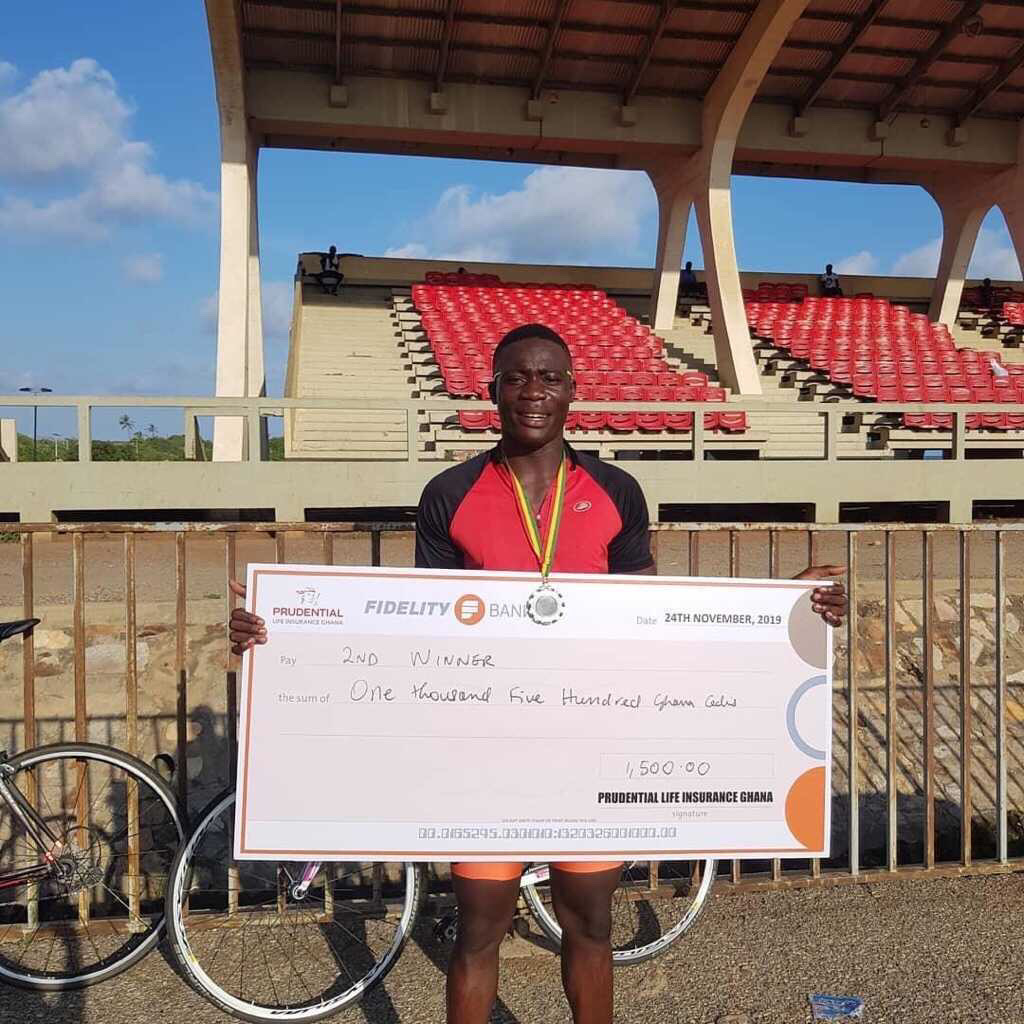 All this time, Lawrence was simultaneously pursuing his cycling career. Professional cycling in Ghana does not get enough attention unfortunately, resulting in far and in between competitions for cyclists to participate in, unlike other sports like soccer or basketball.
According to Lawrence, his idea for a battery-powered bicycle formed around his curiosity about electric vehicles. Wondering if an electric bicycle could be fast enough or go longer distances, he decided to build his own bike to get the answers he so needed. Applying his love for cycling and his passion for engineering, he set out to complete this personal project.
Lawrence designed and built his own electric bicycle over a period of two years. What accounted for the long duration is the unavailability of the needed parts to complete the project. He had to order parts from outside the country, something which also ran his expenditure into thousands of cedis. Determined to get it done, he did not give up and continued to build bit by bit. Today, he has built four bikes in total, one for him and three for clients who expressed interest.
The bike is powered by repurposed 'dead' laptop batteries and takes about 3 hours to fully charge. On a full charge, the bike can go up to 120km depending on the speed and weight of the rider. It is Bluetooth-programmable and can be used to charge a phone or even power a household should it become necessary.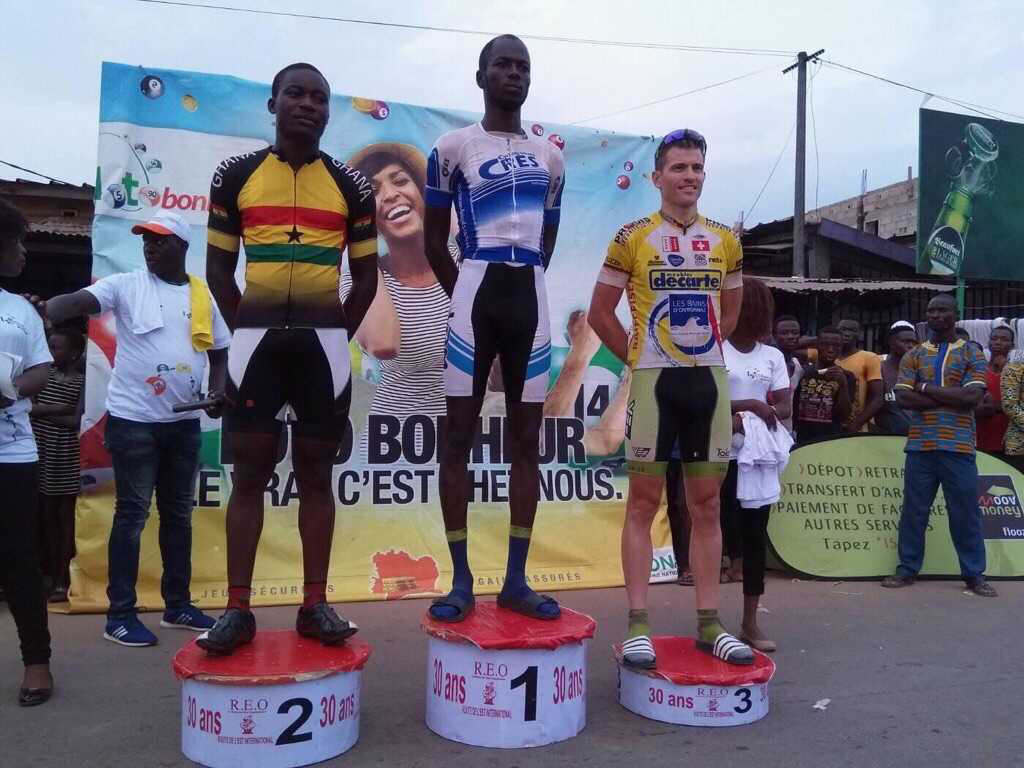 Sharing his next endeavour with us, Lawrence says he will be working on a very high performance electric bike very soon which will be much faster, have more torque and a bigger battery pack, meaning it will go a very long distance per charge with further Bluetooth programming via smart phone.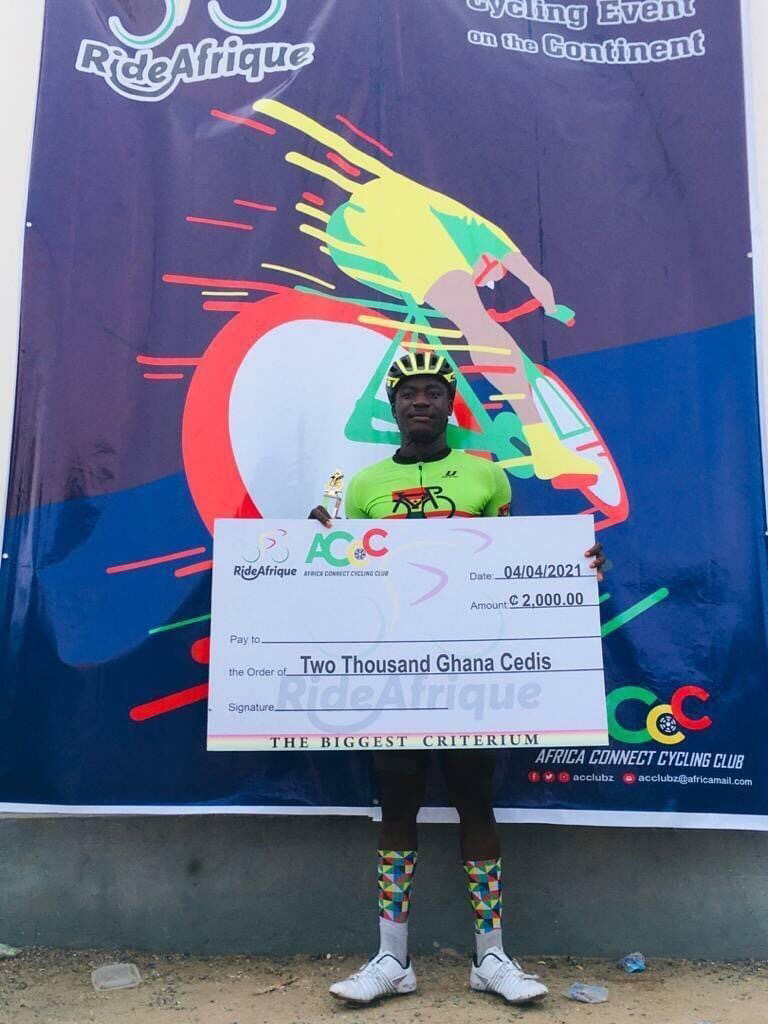 Lawrence is a medal-winning cyclist, having represented Ghana in international competitions and winning medals in the process. He has also won a number of medals on the local scene, starting from as far back as 2019. According to him, were the Sports federation and the government to support cycling, there is great potential for Ghana to conquer the global scene. As at now, cyclists do not have any designated competitions to keep them in shape, no stipends and support for training materials.
With rising interest in his battery-powered bike, Lawrence is open to support and patronage from individuals, organisations and even the government of Ghana to expand his operations, to provide jobs for young people like himself and to make a mark on the innovation roster in the name of Ghana.