Prof. Elsie Effah Kauffman, one of Ghana's leading scientists has been honoured at the third edition of the prestigious Women's Choice Award Africa. The award celebrates women who are championing Noble causes and setting remarkable paces across this continent. This year's theme is: The Progressive Portrayal of Women – its Impact on National and Organisational Development.
Prof. Elsie Effah Kauffman was named 'Shero In STEM', celebrating her significant influence on the world of Science, Technology, Engineering and Mathematics. The Women's Choice Award Africa, seeks to recognise, celebrate and project women who have stood tall amidst the gender imbalance and stereotype that has been perpetrated against the gender.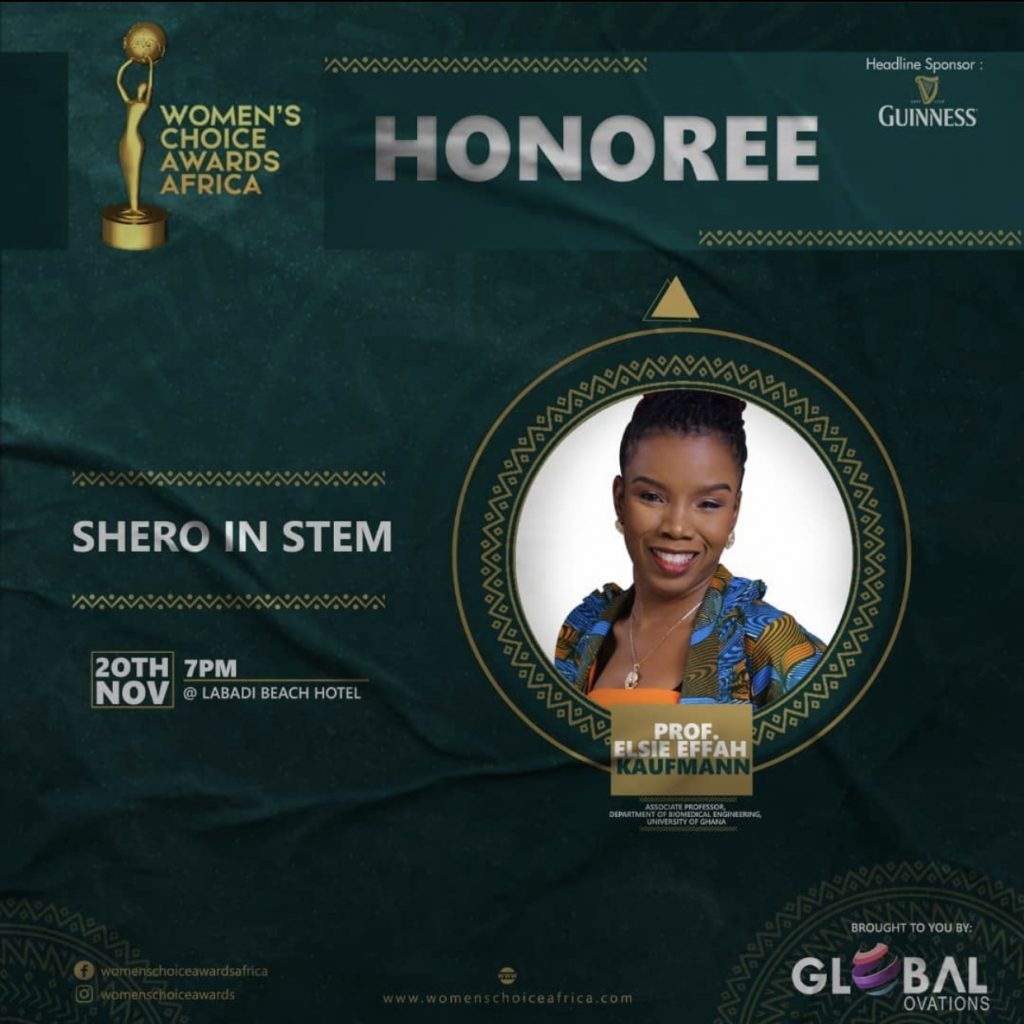 She is an Associate Professor and founding Head of the Department of Biomedical Engineering, University of Ghana. She holds a Bachelor of Science in Engineering (BSE), a Master of Science in Engineering (MSE) and a PhD in Bioengineering, all from the University of Pennsylvania, USA. After her graduate studies she received her postdoctoral training at Rutgers University before joining the University of Ghana in 2001.
She is also keenly interested in Science education at all levels and has been the Host/ Quiz Mistress of the Ghana National Science & Mathematics Quiz TV Programme since 2006. Prof. Effah Kaufmann is the 2017 Impact Africa Summit Laureate for Education in Ghana. The award recognises her "exceptional and continuous contribution to science education in Ghana and for being a role model and inspiration to many young girls, activities which are vital to achieving Sustainable Development Goals 4 and 5".
In 2011 Prof. Effah Kaufmann was a winner of the prestigious International Women's Forum Leadership Foundation Fellowship.
Prof. Effah Kaufmann's teaching and research focus on Tissue Engineering, Biomaterials and Application of Biomedical Engineering concepts to the solution of problems in the Ghanaian context. She was the recipient of the University of Ghana's Best Teacher Award for the Sciences in 2009.
She is also the recipient of the National Society of Black Engineers' 2018 Golden Torch Award for International Academic Leadership in recognition of her excellence in support of academics on an international level and exhibition of commitment to the Science, Technology, Engineering, and Math (STEM) fields.
Prof. Effah Kaufmann is a Board member of the African Gifted Foundation Ghana (African Science Academy) and the British International School-Ghana. She is the current President of the Ghana Society of Biomedical Engineers.