Angela Kyerematen-Jimoh, the Regional General Manager of IBM North, East and West Africa has said goodbye to the tech giant.
After about 10 years of working with the company, rising to become the first female Country Director in Africa and later, the first African to hold the Regional General Manager of IBM North, East and West Africa position, Kyerematen-Jimoh has resigned from her position to pursue other avenues for her career.
In a post on her LinkedIn page, she posted the following statement: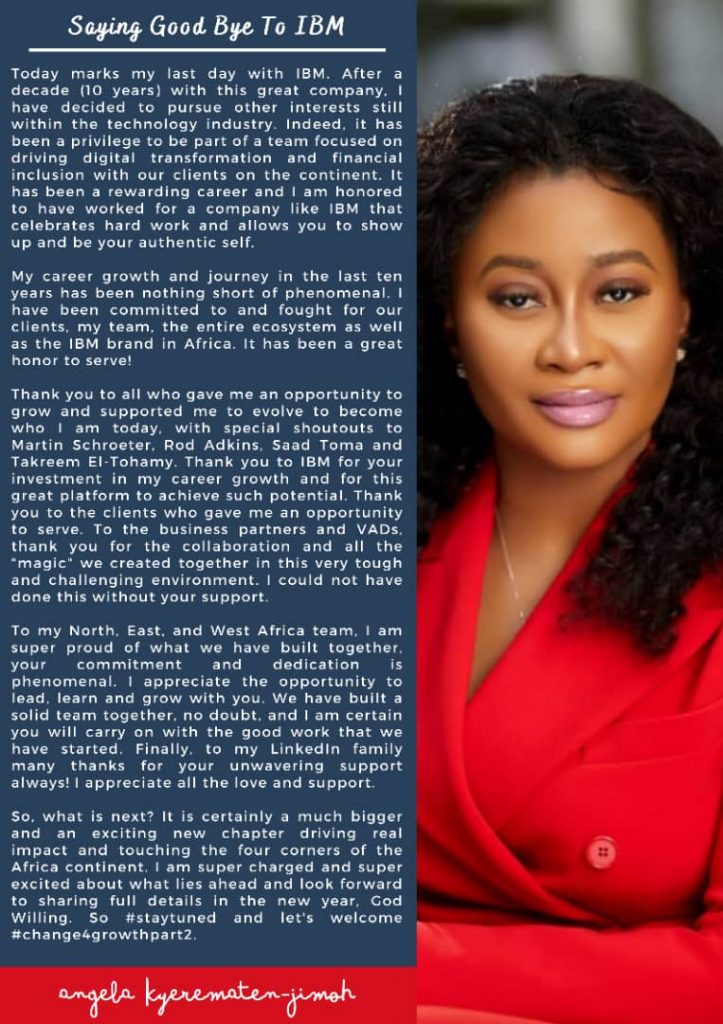 "Today marks my last day with IBM. After a decade (10 years) with this great company, I have decided to pursue other interests still within the technology industry. Indeed, it has been a privilege to be part of a team focused on driving digital transformation and financial inclusion with our clients on the continent. It has been a rewarding career and I am honored to have worked for a company like IBM that celebrates hard work and allows you to show up and be your authentic self.
My career growth and journey in the last ten years has been nothing short of phenomenal.I have been committed to and fought for our clients, my team, the entire ecosystem as well as the IBM brand in Africa. It has been a great honor to serve!
Thank you to all who gave me an opportunity to grow and supported me to evolve to become who I am today, with special shoutouts to Martin Schroeter, Rod Adkins, Saad Toma and Takreem El-Tohamy. Thank you to IBM for your investment in my career growth and for this great platform to achieve such potential. Thank you to the clients who gave me an opportunity to serve.To the business partners and VADS, thank you for the collaboration and all the "magic" we created together in this very tough and challenging environment. I could not have done this without your support.
To my North, East, and West Africa team, I am super proud of what we have built together. Your commitment and dedication is phenomenal. I appreciate the opportunity to lead, learn and grow with you. We have built a solid team together, no doubt, and I am certain you will carry on with the good work that we have started.Finally, to my Linkedin family many thanks for your unwavering support always! I appreciate all the love and support.
So, what is next? It is certainly a much bigger and an exciting new chapter driving real impact and touching the four corners of the Africa continent. I am super charged and super excited about what lies ahead and look forward to sharing full details in the new year, God Willing."
She is an alumnus of the Harvard Business School and also graduated from the London Metropolitan University with a BA in Marketing and French. She has been named one of Africa's most influential women by Avance Media and holds awards from the US African Women Forum's Global Impact Leadership Awards and the prestigious African Achievers Award for Excellence in Business.
With over 20 years experience of extensive work in finance and tech in Africa and Europe, she has worked in various top positions both locally and internationally. She has experience as the Chief of Staff to the Senior Vice President in charge of Global Markets and Sales in IBM's corporate headquarters in New York. She was also the first female Country Director in Africa, serving IBM in Ghana.
What's next for this phenomenal woman?