An 11-year-old Jeremiah Komla Mawunyo Jnr. of St. Martin de Porres School wins the 4th Edition of JSA Phenomenal Abrantie Award 2021 organized by Junior Shapers Africa(JSA), Ghana's foremost male child personal development non-governmental organisation.
The JSA Phenomenal Abrantie Award is an annual award recieved by outstanding boys at JSA who exhibit values, leadership skills and a passion to address one of the many challenges faced by children in Ghana.
This is in line with JSA's vision to raise phenomenal future father figures in our society. Four boys have so far recieved this award. The previous reciepient of this award is Nana Yaw Darkwah Oti Boating, a British born ghanaian resident in the UK, who contributed to JSA's efforts of mentoring school boys at Jamestown, Accra through fundraising activities.
The year long personal development training program for JSA's 4th cohort of participants started in March 2021 which ended with a beautiful graduation ceremony held at the Christ the King Hall on Sunday, 6th March 2022. Jeremiah managed to beat a stiff competition from six finalists from an initial 35 contestants to be crowned JSA Phenomenal Abrantie Award 2021.
The judges settled on Jeremiah after six rounds of the contest which sought to test contestants on key thematic areas including presentation skills, self-awareness, emotional intelligence, how to treat girls and women right, ethical leadership, goal setting, social etiquette, passion for volunteerism among others.
For his prize, Jeremiah who also emerged as the most emotionally intelligent contestant and best contestant for the Ghana Heritage Category received a citation of honour, a tablet from Corel Reef Innovation Hub, an investment account to be opened for him at Databank, a caveman watch gift by Mmofrawe kids channel and school essentials.
In his acceptance speech, young Jeremiah who was beaming with joy expressed his commitment to champion a cause to change society for the better. In line with JSA's vision of raising phenomenal father figures to contribute meaningfully to the lives of children, every JSA Phenomenal Abrantie award winner is expected to identify and support a group of children who need attention and support. Jeremiah chose to help children living with Autism. He defended his cause so admirably during the contest.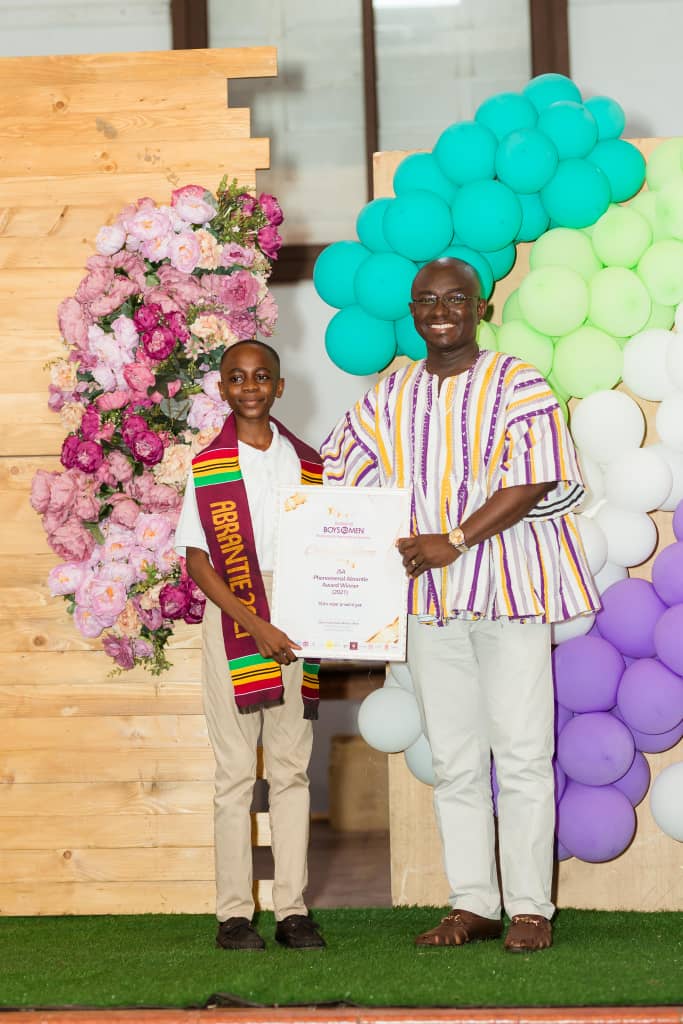 The other contestants also won various prizes and certificates of participation for their commitment and effort throughout the year long virtual training sessions, a five day bootcamp and internship exercise.
The boys displayed brilliant skills in, singing, dancing, creativity, playing of instruments, etc which all formed part of the skills they have acquired throughout the competition.
Founder
Founding Director of Junior Shapers Africa (JSA) Mrs. Ethel Adjorlolo Marfo charged government and other non-governmental organisations to invest vigorously in the personal development of boys to reduce the soaring numbers of male juvenile offenders in our correctional centres.
"As a country, we need to devote equal attention to both boys and girls to fully develop their potentials. An empowered woman needs an equally empowered confident man to build a better society," she said.
Mrs. Marfo disclosed that the mental health of one out of seven young people between the ages of 10-17 years was deteriorating, according to the World Health Organisation (WHO), 2021 report and therefore advised parents to pay critical attention to their young children especially boys as they usually internalise their emotions for lack of support.
Chairman
For his part, The Medical Superintendent of the LEKMA Polyclinic, Dr. William Okyere-Frempong, said Ghana needs to groom the next ethical leaders with God consciousness to spur development.
"These days, an investment in boys is no longer fancied because of the over-concentration on girl's power. But these girls would certainly need boys who are empathetic and understand their perspective, Dr. Okyere-Frempong who chaired the function noted.
Other speakers who inspired the boys were the special guest honour Mr. Edwin Amoako, commercial director of FanMilk Ghana and the youth leadership keynote speaker Mr. Tobias Woode, the former Student Council President of Ashesi University.
JSA
Established in 2015, JSA has over the years groomed and empowered over 7,000 African boys with relevant life skills through virtual and in-person sessions with representation from the following countries, Ghana, Uganda, Liberia, United Kingdom(UK), United States of America(USA) and Thailand.
The 4th Annual JSA Boys to Men Bootcamp & Internship was organised in partnership with organisations who supported the boys with their services and offered their premises for the boys to learn were UNICEF Ghana, Databank Foundation, Council for Scientific and Industrial Research (CSIR), Corel Reef Innovation Hub, Caveman Watches, Atlas Rent a Car, Food 101, Kraftsmen, Herrada Ltd among others.
Annually, JSA brings together young boys between the ages of 4 and 17 years and grooms them to become responsible role models through bootcamps on vacations, weekend coaching clinics and community outreach programmes. 2022 intake is currently underway via www.juniorshapersafrica.com