Ghana's clean energy, climate, energy transition and environmental sustainability industry received a significant boost as Kwaku Osei-Sarpong was awarded the 40 under 40 Award in the Environmental and Climate Sustainability category at the 7th Forty under 40 Awards in Accra on September 1st, 2023. This prestigious recognition highlights Kwaku's exceptional dedication to accelerating clean energy and energy transition solutions in Ghana and Africa, whiles preserving the environment and promoting climate sustainability.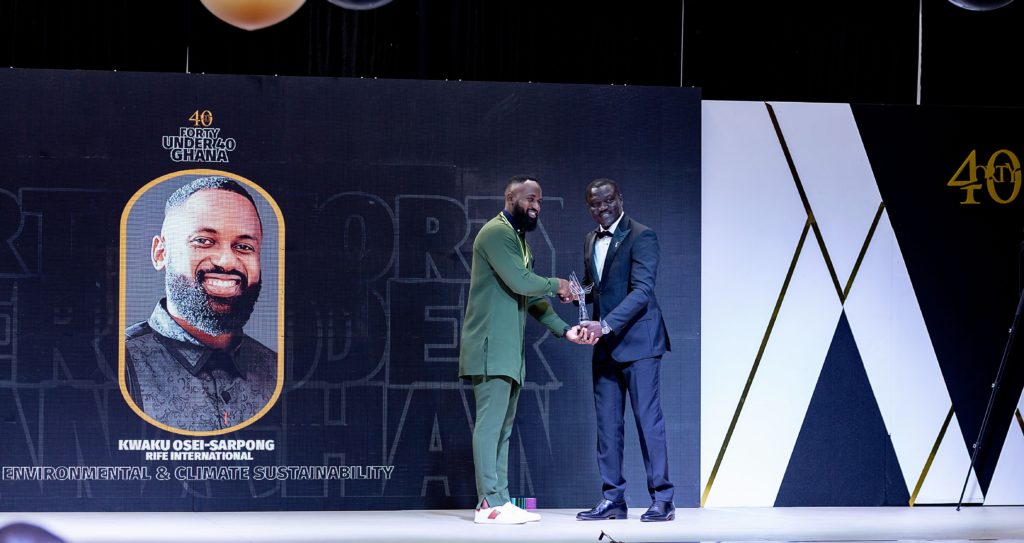 The Forty under 40 Awards is an annual event that identifies, honors, and celebrates a cross-section of the Nation's most influential and accomplished young business leaders under the age forty from various industries who are committed to business growth, professional and community excellence.
Kwaku Osei-Sarpong is a trailblazing figure in the clean energy industry, not only in Ghana but across West Africa. His unwavering commitment to socio-economic development, energy transition and, climate sustainability has made him a standout leader in the field.
With expertise in Renewable Energy and Power, Clean Energy and E Mobility, Energy Efficiency, and Climate Finance, Kwaku has pioneered climate change mitigation and sustainable energy practices in Ghana and West Africa. He is a strong advocate for tailored climate solutions that benefit African governments, businesses, and communities.
As the driving force behind RIFE International's West Africa operations, Kwaku has implemented groundbreaking initiatives that have significantly improved energy transition and access, whiles reducing CO2 emissions in the subregion. His innovative strategies, including the decentralization of decarbonized electricity generation through solar energy, cutting-edge energy efficiency solutions, and electric vehicle infrastructure, have empowered government as well as the private sector organizations to embrace sustainability while reaping the financial benefits of energy cost savings.
Kwaku has made significant contributions to the fields of clean energy and sustainability finance. He has been instrumental in both attracting and allocating capital for projects in Ghana and West Africa that center on clean energy, energy access, climate initiatives and sustainability.
Apart from his business ventures, Kwaku has actively played pivotal roles in advancing the renewable energy landscape in Ghana. This includes his support for regulatory frameworks that established guidelines for the country's renewable energy sector, aligning them with the Renewable Energy Act. Additionally, he has served as the Vice Chair of AGI's Working Group of Solar Companies for the Partner Africa Project (BSW-Solar, AGI) Solar Ghana Cocoa, which falls under the Special Initiative Decent Work for a Just Transition of the German Federal Ministry for Economic Cooperation and Development (BMZ). His contributions have created an environment conducive to harnessing clean, eco-friendly, and cost-effective energy sources to enhance cocoa farming and processing throughout the value chain.
Kwaku Osei-Sarpong's commitment to socio-economic development extends into his nonprofit endeavors, where he makes a significant impact on thousands of individuals in Ghana through community development initiatives that nurture young talent and foster entrepreneurial skills. He takes a leadership role and serves as a Board Member responsible for Fundraising and Partnerships at Enactus Ghana, where he empowers university and college students to address social and environmental challenges in Ghana through social entrepreneurship and Innovation Contest.
This platform provides students with the opportunity to identify and execute projects aimed at creating sustainable solutions for local issues while honing practical skills in project management, financial planning, and leadership. Notably, Kwaku is leading Enactus CK Tedam University of Technology and Applied Sciences, who will be representing Ghana at the annual Enactus World Cup event in Utrecht, Netherlands scheduled for October 2023. The team emerged champions at the 2023 Enactus Ghana National Competition which took place at the Accra International Conference Center on the 7th of July 2023, with their Project Ecohusk – which converts rice husks and straw into environmentally friendly products such as wood for furniture, acoustics, and charcoal.
Kwaku Osei-Sarpong has not only been recognized for his remarkable achievements but has also become an inspiring beacon of change. His dedication to advancing clean energy, energy transition, and climate sustainability in Ghana and across Africa is both commendable and transformative. As we celebrate his accomplishments, we also acknowledge the broader impact of the Forty under 40 Awards in honoring influential and accomplished young leaders dedicated to business growth, professional excellence, and community welfare. Kwaku's unwavering commitment to sustainability, his pioneering work in clean energy, and his dedication to nurturing the next generation of sustainability focused leaders through his non-profit endeavors exemplify a vision of a brighter, more sustainable future. His journey inspires us all to pursue innovative solutions, embrace sustainability, and strive for positive change in our communities and the world.