Prince Akpah, the founder and managing director of Avance Media, has graduated from the African University College of Communications 9 years after leaving high school. Prince applied and gained admission to study for a B.A in Communication Studies in September 2018.
He graduated from St. Paul's Senior High School in 2012 and gained admission to the University of Cape Coast in 2013 but was unable to go due to financial challenges. A year later in 2014, he gained admission again to the University of Education, Winneba but was unable to raise the fees before the deadline.
After these failed attempts at tertiary education, Prince then decided to focus on building his ideas. Prince got his first shot at age 19 when he was appointed the editor-in-chief of the Key Newspaper, an initiative of an NGO, Hallowed Kids Foundation. He launched Africa Youth Awards in 2014, Avance Media in 2015 and has been focused on building these projects and working with other organisations.
In 2018, after saving enough to afford it, Prince gained admission at AUCC to pursue his dreams of getting tertiary education. Though he was confused at the beginning of his career, Prince has been able to achieve so much without the university degree he has always wanted.
"I thought I [could] never achieve anything without a degree. But walking this journey has thought me a lot and I am hoping other young people will not focus their entire life on school but building something on their own, which can be their legacy."
He is a Social Entrepreneur, Speaker, Blogger, PR Expert, Volunteer, Author, Researcher and Awards Consultant. Some of the major success he has chalked are having led Avance Media to initiate projects in 7 African Countries with 100s of media features, co-leading Africa Youth Awards to build a database of over 100,000 young Africans and getting hired as the Collaborations and Engagement Officer for Africans Rising, a pan-African Movement, all these done without a degree.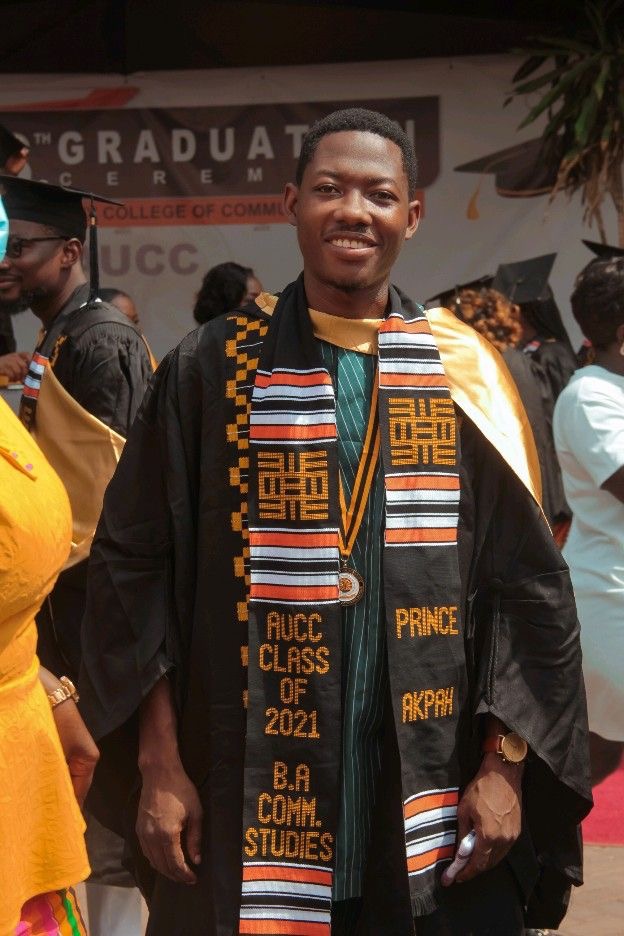 He has been able to transform his ideas into impact projects that have touched the lives of so many people. He was named one of the 2019 100 Most Influential People of African Descent by MIPAD and the United Nations, and among the 2018 Top 30 Under 30 Pioneers in Ghana by Future of Ghana.
Prince has delivered guest lectures at Central University, the University of Professional Studies, Accra and other conferences & workshops. As an awards consultant, he serves on the Jury of the Ghana Event Awards and Ghana Startup Awards and has consulted for award programmes including: People's Choice Practitioners Honours (with Otumfuo Nana Osei Tutu Il as Patron), African Achievers Awards, WatsUp TV Africa Music Video Awards, Ghana Writers Awards and Nigeria Entrepreneurs Awards. He was selected by the African Entrepreneurship Award to serve as a Partner-mentor for the 2018 awards prize.