Renowned Ghanaian actor David Dontoh has featured in the American crime drama television series Snowfall.
Season six, episode three of Snowfall, "Door of No Return" was filmed in Ghana and dedicated to slavery in Ghana and Africa as a whole.
Adoma also featured in the series.
The first scene of the series has Leon strolling the routes of the Makola market with Wanda while dressed in indigenous Batakari garb. A wall bill quoting former President Flt. Lt. Jerry John Rawlings hung at the 4.00 minute mark haunting Leon with the words:
"The errors of the past must be corrected in order to re-establish the confidence of our people in a secure future."
This episode of the series shows how slavery in Africa evolved from a tribal warfare practice to a brutally enforced way of life after Europeans began exploiting the continent.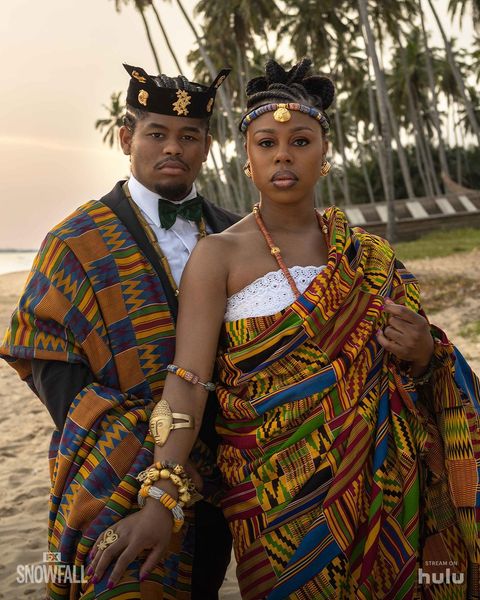 Door of No Return refers to the last door through which Africans were taken into ships and sent to the New world as slaves. One major hub on the Atlantic slave trade's route at the time was the Cape Coast in Ghana.
Veteran actor David Dontoh plays a tour guide, Likem, who shows Leon and Wanda around Cape Coast Castle and explains the history of slavery in Africa under colonial rule in a captivating narration.
The two surprisingly get married on the Cape Coast beach, dressed in colorful Kente and gold ornaments, exchanging rings against the sunlit backdrop of the water.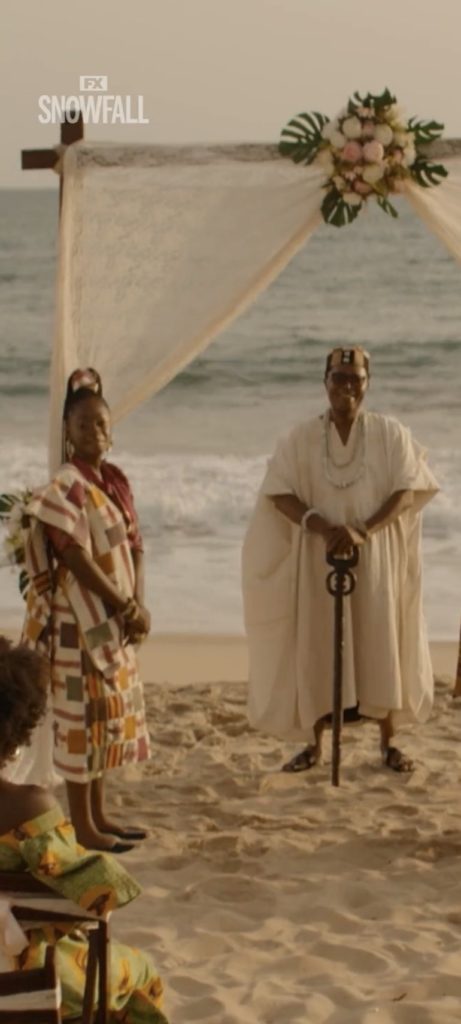 The crime drama is among the most highly rated FX originals to debut in 2017. It takes viewers to the beginning of the 1980s crack cocaine pandemic in Los Angeles. It has captivated audiences who constantly desire more. Unfortunately, season six will be the last season.