A student of the College of Engineering at the Kwame Nkrumah University of Science and Technology (KNUST), has graduated as the overall best student of the school.
Zakariah Mohammed Izzu-Deen graduated with a Cumulative Weighted Average (CWA) of 87.04.
A tweet by Voice Of KNUST indicated that Zakariah emerged the best student out of 12,622 students during the 56th Congregation of the university.
He also emerged as the overall best-graduating student of the College of Engineering.
Zakariah Mohammed Izzu-Deen is an old student of the Presbyterian Boys' Secondary School.
In a LinkedIn post, the Odade3 said he was grateful to God, his family, faculty and everyone who supported him through school.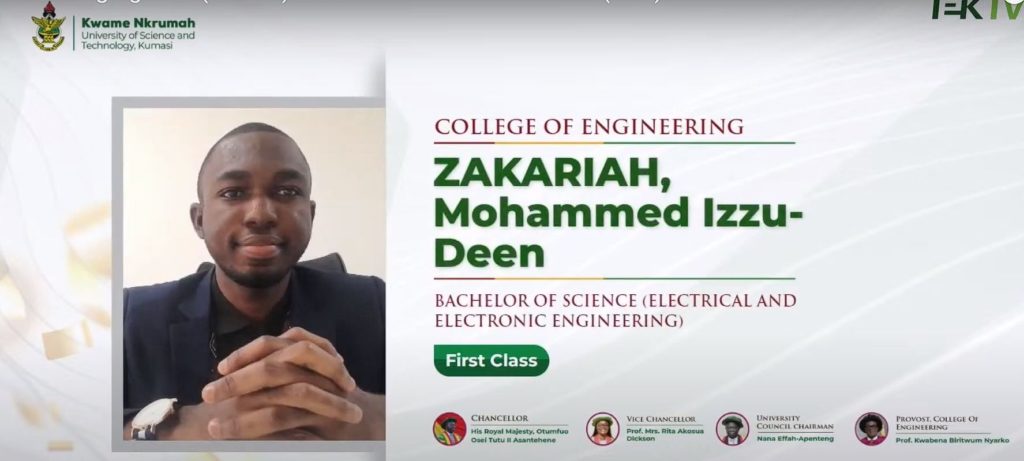 Read below his full post on LinkedIn
Gratitude to the Almighty for His blessings and grace.
I am thrilled to share with my LinkedIn network that I have officially graduated from the College of Engineering at KNUST, and have been recognized as the Valedictorian of the college out of a cohort of about 1,523 students. Furthermore, I am humbled to have been named the best graduating student of the KNUST Class of 2022.
I wish to express my profound gratitude to the faculty, mentors, friends, family, and institutions who have supported the student body throughout our academic journey.
Congratulations to the KNUST graduating class of 2022!!! 🎉🎉.
As we embark on our next chapter, let us utilize our skills and knowledge to make a positive impact on the world and make it a better place for all.