Africa's foremost PR and ratings firm, Avance Media, has announced the inaugural Top 100 Ghana's Women Board Directors list for 2023.
This groundbreaking initiative aims to highlight the exceptional contributions of women who have demonstrated exemplary leadership, innovation, and impact within their respective industries.
The selection process for the Top 100 Ghana's Women Board Directors was rigorous, considering a comprehensive range of criteria such as experience, education, board tenure, industry expertise, leadership capabilities, notable impact, awards and recognition, as well as public presence.
The research revealed that women hold 28% of board positions in Ghana, compared to the global average of 20% as indicated by The Harvard Law School Forum on Corporate Governance. The report further showed that within the 52 Ghanaian companies listed, only 10 have women serving as their board chairs. Notably, 42% of the women on the list hold positions on bank boards.
A highlight of the event was the announcement of the maiden Ghana Board Diversity Awards. Media General was recognized as the Best Gender-Inclusive Board (private), while Exim Bank Ghana and the Ghana Revenue Authority clinched the title of Best Gender-Inclusive Board (public). These awards underscore the efforts of Ghanaian companies in championing gender diversity within their leadership structures.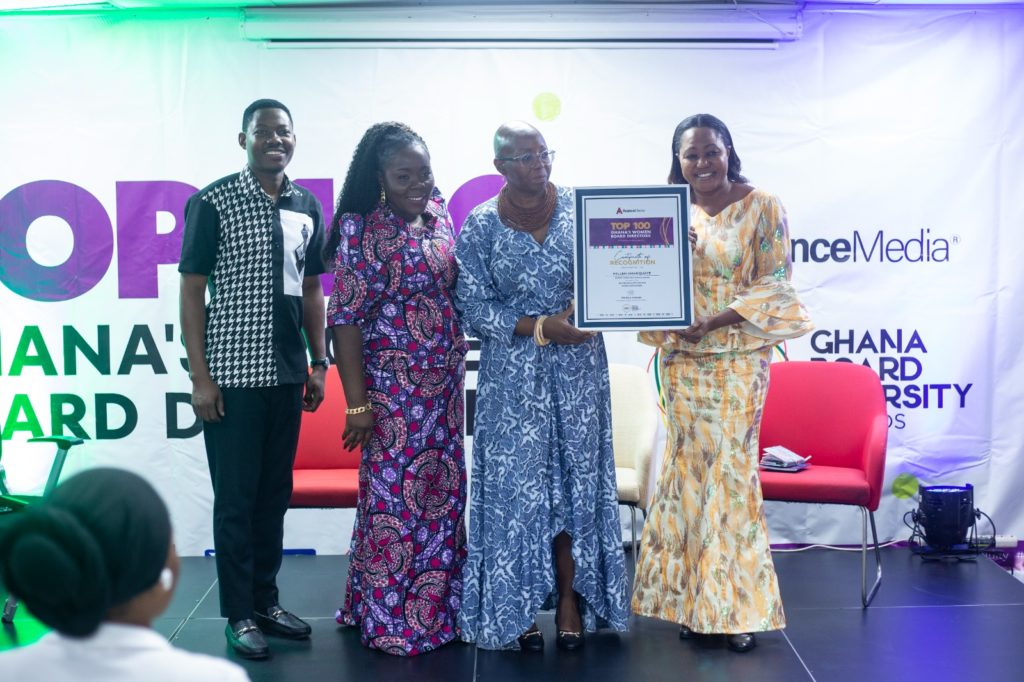 The unveiling, which took place at the SB Incubator in Accra on August 14th, 2023 in Accra also featured an engaging panel discussion hosted by Prince Akpah on the pivotal role of women in board leadership. Esteemed panellists included Board Chair of Old Mutual Ghana, Hellen Amarquaye; President / Council Chair of the Institute of Directors-Ghan, Rev. (Mrs.) Angela Carmen Appiah (FIoD); and CEO of Acreaty Ghana, Elsie Appau-Klu. Their insights illuminated the significance of women's contributions to effective corporate governance.
On the sidelines of the event, Prince Akpah, Founder of Avance Media, remarked, "The Top 100 Ghana's Women Board Directors list is a testament to the remarkable achievements of women leaders who continue to pave the way for others. Their dedication, expertise, and impact are instrumental in shaping the future of corporate leadership in Ghana. We believe that celebrating their accomplishments will inspire more gender-inclusive boardrooms and contribute to a diverse and prosperous business landscape."
The initiative is a creation of PR and rating firm, Avance Media with partnerships from Acreaty Ghana, Institute of Directors-Ghana (IoD-Gh), Business and Financial Times (BFT), EdwardsAsare.com, and Words Magazine.
Profiles of the women are published on www.avancemedia.org/gwbd
Below is the full list of Avance Media's Top 100 Ghana's Women Board Directors for 2023
Abena Amoah || Central Securities Depository

Abena Osei-Poku || Ghana Stock Exchange (c)

Abiola Bawuah || UBA Ghana

Adelaide Ahwireng || Ghana Revenue Authority

Adwoa Nyantakyiwa Annan || Fidelity Bank Ghana

Afua Adubea Koranteng || OmniBSIC Bank Limited

Afua Asabea Asare (Dr.) || Exim Bank Ghana

Afua Djimi || Consolidated Bank Ghana Ltd.

Akua Kuenyehia (Prof) || SC Bank Ghana

Akyaa Afreh Arhin Addo-Kufuor || OmniBSIC Bank Limited

Ama Boafo-Arthur (Dr.) || Graphic Communications Group

Ama Gyamfuah Abrefa || Ghana National Petroleum Corporation

Ama Sarpong Bawuah || Access Bank Ghana (c)

Ama Serwah Nerquaye Tetteh || Ghana Broadcasting Corporation

Angela Forson || GOIL Ghana

Angela Kyerematen-Jimoh || Bank of Ghana

Angela Lamensdorf Ofori-Atta (Prof) || EnteRprise Group

Angela Peasah || Unilever Ghana PLC

Augustina Amakye (Dr.) || First Atlantic Bank

Beatrice Bridget Ofei || First National Bank Ghana

Benonita Bismarck || GCNET

Carlien Dorcas Bou-Chedid (Ing.) || Electricity Company of Ghana

Catherine Quaidoo || Exim Bank Ghana

Christina Sutherland || SIC Insurance Company PLC

Comfort Ocran || Bank of Ghana

Cynthia Forson (Dr.) || Cal Bank

Dela Obeng-Sakyi || Ghana Revenue Authority

Edith Dankwa (Dr.) || Unilever Ghana PLC

Edith Uyovbukerhi || Old Mutual Ghana

Efua Ghartey || Ghana Broadcasting Corporation

Efua Preba Arkaah Greenstreet || Prudential Insurance

Elaine Sam || Media General

Elizabeth Akua Ohene || SSNIT (c)

Elsie Addo Awadzi || Bank of Ghana

Esi Tawia Addo-Ashong || Stanbic Bank Ghana (c)

Estelle Akofio-Sowah || Stanbic Bank Ghana

Ethel Cofie || Old Mutual Ghana

Eva Mends || Ghana Revenue Authority

Evelyn Duku || UMB Bank

Florence Larbi || Jospong Group

Frances Adu-Mante || Absa Bank Ghana (c)

Freda Yahan Duplan || Zenith Bank (c)

Gloria Adjoa Owusu || Consolidated Bank Ghana Ltd.

Gloria Irene Amaki Payida || SSNIT

Grace Amey-Obeng || Media General

Hannah Brenda Amoateng || FBNBank Ghana

Helen Amarquaye || Old Mutual Ghana (c)

Helen Nankani || Cal Bank

Irene Baaba Hagan || GT Bank Ghana

Ivy Betur Naaso || SSNIT

Ivy Ruby Austin || Graphic Communications Group

Janet Akosua Gyasiwaa || Volta River Authority

Joyce Agyeman Attafuah || BOST

Joyce Rosalind Aryee (Dr.) || Volta River Authority

Juliana Addo-Yobo || Prudential Bank Limited

Juliana Asante || Societe Generale Ghana

Juliette Modupe Tuakli (Dr.) || Zenith Bank

Karen Akiwumi-Tanoh || Prudential Insurance

Laurette Korkor Otchere || Societe Generale Ghana

Lisa Afua Serwah Mensah || Fidelity Bank Ghana

Lydia Essah || GCB Bank

Lynn Allotey Gadzekpo || National Investment Bank Limited

Maata Opare || Electricity Company of Ghana

Mabel A. Amoatemaa Sarpong || GOIL Ghana

Magdalene Harley || Donewell Insurance

Maidie Elizabeth Arkutu || GT Bank Ghana

Mansa Nettey || Zen Petroleum

Margaret Boateng Sekyere || Societe Generale Ghana (c)

Margaret Ekua Prah || Ghana Investment Promotion Council

Marian Barnor || Multimedia Ghana

Mary Boakye || Development Bank Ghana

Maureen Abla Amematekpor || Consolidated Bank Ghana Ltd.

Muriel Susan Edusei || Prudential Bank Limited (c)

Naana Nsafoah Sarpong || Electricity Company of Ghana

Nana Adwoa Dokua || COCOBOD

Nana Ama Ayensua Saara III || GCB Bank

Nana Ama Botchway || MTN Ghana

Nana Ama Tima Boakye || Bui Power Authority

Nana Yaa Owusu-Ansah || Unilever Ghana PLC

Nora Bannerman Abbott || Ghana Investment Promotion Council

Olivia Frimpong Kwapong (Prof) || Graphic Communications Group (c)

Pamela Djamson-Tettey || SIC Insurance Company PLC

Patience Akyianu || Ecobank Ghana

Patience Asante || First Atlantic Bank

Pearl Nkrumah || Access Bank Ghana

Rebecca Acquaah-Arhin (Dr.) || Bui Power Authority

Rebecca Lomo Atswei || Starlife Assurance

Regina Ohene-Darko Adutwum (Dr.) || Bank of Ghana

Rosalind Nana Emela Kainyah || Cal Bank

Rosemary Beryl Archer || Ghana Free Zones Authority

Rosemary Yeboah || Ecobank Ghana

Rosie Ebe Arthur || MTN Ghana

Rosy Fynn || First National Bank Ghana

Sarah-Mary Frimpong || Stanbic Bank Ghana

Susana Alo (Dr.) || Ghana Free Zones Authority

Teresa Effie Cooke || OmniBSIC Bank Limited

Thelma Efua Quaye || First Atlantic Bank

Theresa Afua Ayoade || Ghana Infrastructure Investment Fund

Victoria Barth || Prudential Bank Limited

Yvette Adounvo Atekpe || Access Bank Ghana