New Comma, the upcoming social media and recruitment platform for African creatives hosted their debut event on 21st December dubbed Comma Connect in commemoration of its first anniversary. Bringing what they have been building in the digital space to the physical for the first time back home where it all started in Accra, Ghana.
The company is on a mission to ensure African creatives win a bigger share of the $2TN Global Creative economy by making discovering and engaging with an untapped pool of amazing African creatives shaping the future of the creative economy easier for businesses globally.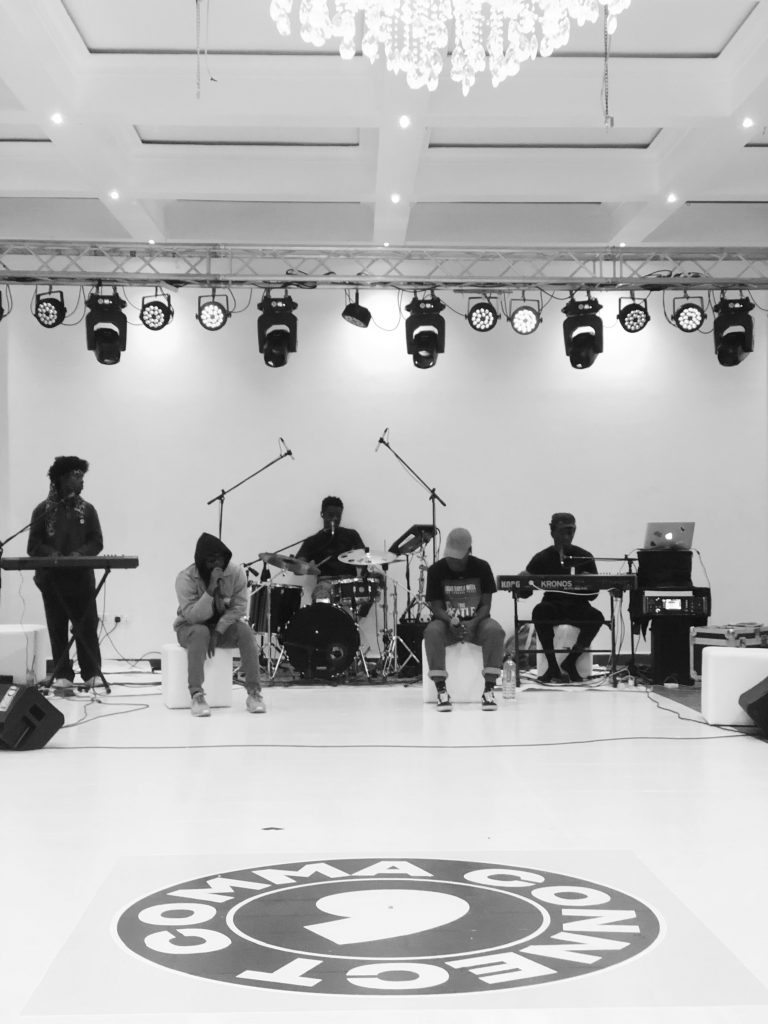 Creative collaboration was the theme of the event that made a light hearted environment for meeting and connecting with others with cocktail making, sip and paint roulette, games, interactive music performances.
Highlights included:
Cocktail Masterclass
Eli's Mixology masterclass, an amazing introduction led by a master of mixology, was enjoyed intimately by some of our early guests. Attendees left with two new recipes – our very own New Comma cocktail inspired by traditional Ghanaian recipes and a classic Nigerian Chapman cocktail.
Sip and Paint Roulette
Sip & Paint Roulette, is the very first of its kind on the Detty December agenda, bringing people together to create all from one canvas. We saw a true blend of creative disciplines in the tapestries that were produced on the night. Artists and Graphic designers showing off their painting and drawing skills, with fashion designers and musicians also adding a different style of artistic flair across 10 different artworks.
Trailblazing Creatives such as Ria Boss, Ekow Barnes, Helen Appiah-Ampofo, Joewackle Kusi, Hanson Akatti, Awurama Mankatah, Joseph Nti, Yung D3mz, Ghislaine Boateng and Ewurabena Ampofo-Tenkorange amongst others were in attendance as they bonded over cocktails, painting and games.
Creative concepts were made on the spot during the event including new logo designs for the DJ of the night Eff the DJ and neo soul songstress Ria Boss.
There were also games shared across the groups in the more cozy areas that were deeply enjoyed by attendees, with very intense games of uno, Ludo and Oware being played deep into the evening
Super Jazz Club Performance
Super Jazz Club had one of a kind performance, starting slowly with some of their more mellow tunes like "Jungle" to the more upbeat tracks like "Cameras". They also invited some of our creative talent attending on the night to perform and collaborate live during their show. Including longtime musician Paapa Mensa.
The food by wingman and Smoothies by Dilysious kept attendees well nourished through the night, with wings and burgers flowing, being washed down by what some would say a much healthier option being the smoothies. Attendees also loved the cocktails, even more when the bar was opened and free drinks flowed to all attendees that had made it through till the end of the event
The 360 video booth captured the fun, laughs and smiles of the Comma Connect attendees, making sure that this moment, our inaugural event, will never be short-lived!
New Comma is a social media platform for African creatives to connect, create, learn and earn. Request an invite code to try it out in beta at newcomma.com
Instagram: https://www.instagram.com/New.Comma/
Twitter: https://twitter.com/New_Comma
Facebook: https://www.facebook.com/newcomma