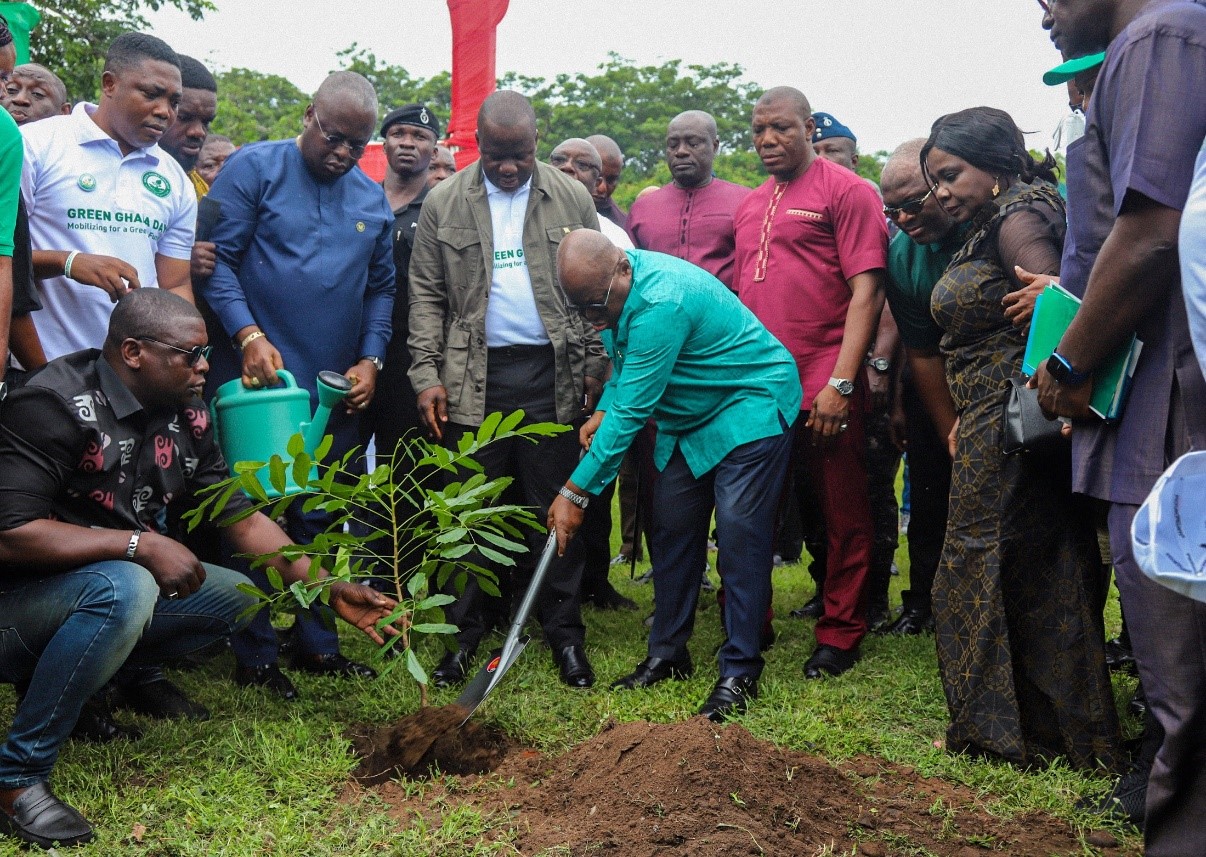 President of Ghana in a green shirt digging to plant a tree. Photo credit: China Dialogue
"Trees are more than something pretty to look at or sit under. They are essential to our health and well-being." (American Forest,2023)
Introduced in 2021, by H.E. Nana Addo Dankwa Akuffo-Addo, in order to replace Ghana's lost forest cover and to support the global effort to mitigate climate change, the Green Ghana project was launched. The Project seeks to plant at least five million trees across the country.
Gone are the days when Ghana used to have beautiful thick forests made up of trees like Acacia, Mahogany, Ofram, Otie, and Emire, among many others. Today activities such as mining, logging, agriculture, cattle ranching, oil extraction, and dam-building have destroyed numerous forests.
How did we get here?
The destruction of Ghana's once lush forests, as mentioned earlier, has had significant implications for the country's environment and is closely linked to the pressing issue of climate change. Climate change refers to long-term shifts in temperature and weather patterns across the Earth, primarily caused by human activities that release greenhouse gases into the atmosphere. These gases, such as carbon dioxide, and methane, trap heat among others contribute to the warming of the planet, leading to various environmental and socio-economic consequences.
The deforestation resulting from activities like mining, logging, and agriculture in Ghana has contributed to the release of large amounts of carbon dioxide into the atmosphere.
Benefits of tree planting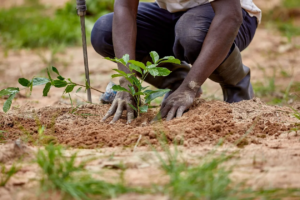 A picture of a man planting a tree. Photo credit: B&FT
First of all, trees are also the oldest and largest organisms on the planet. According to a publication by CO2 Australia, "there are Bristlecone Pines that are over 5,000 years old and Giant Sequoia trees with a volume of almost 1,500 cubic meters. Trees cover 31% of the earth's land surface, over 4 billion hectares."
Trees are active providers of oxygen. They also limit the rate of carbon in the atmosphere. Studies have proven that "a tree can absorb 22 kilos of carbon in a year, and sequester 0.90 tonnes in total by the time it reaches 40 years of age." To mention but few, trees reduce air pollution, provide food and shelter for wildlife, minimize erosion and maintain healthy soil, increase rainfall, and absorb sunlight as energy. Simply, trees are an essential component of life on Earth.
What can I do?
In order to achieve SDG 15 which aims to "protect, restore and promote sustainable use of terrestrial ecosystems, sustainably manage forests, combat desertification, and halt and reverse land degradation and halt biodiversity loss" and the goal of the Green Ghana Project of planting 5 million trees, we all as Ghanaians have a role to play. Tree planting indeed can one day end most of Ghana's environmental problems.
Plant a tree today and save the environment for years to come.