The capital market quiz competition is an annual quiz competition that brings together high school students in Greater Accra. This initiative is to challenge the students to increase their knowledge in capital markets, Financial Planning and investments. The objective is to create awareness among students on various capital markets, and related issues and encourage their interest in investment.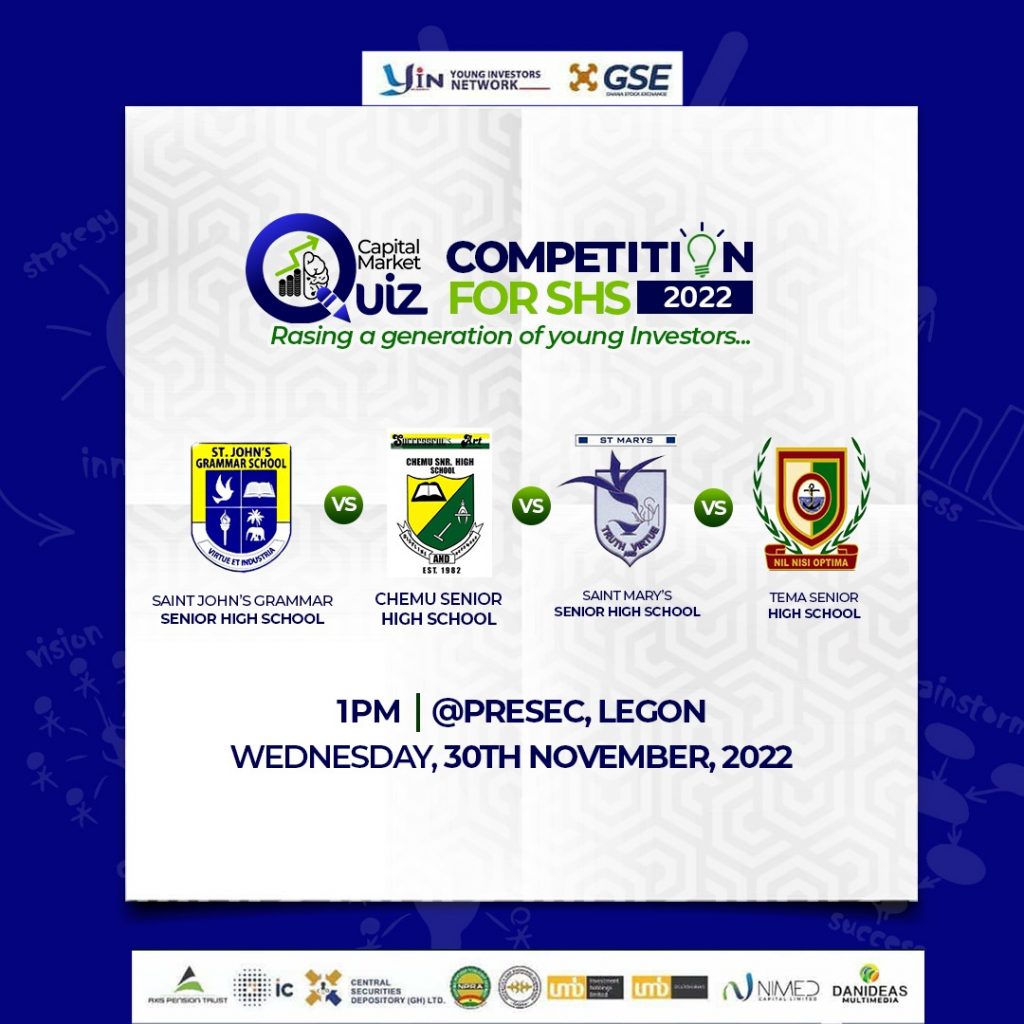 After YIN successfully organized a regional quiz for the Greater Accra region last year, YIN decided to go national with their experience of the national financial training on finance and investment in selected schools in the various regions in the country.
OBJECTIVES:
The broad objectives of this initiative are:
To promote financial literacy and education among the youth in Ghana.
To increase the knowledge on finance and investment among the Ghanaian students
To inculcate the habit of good financial management, personal savings and investment among the Ghanaian youth.
To create the awareness and the excitement about the need to invest towards future financial security among the Ghanaian youth.
OUTREACH TO SENIOR HIGH SCHOOLS
The theme for this year outreach and investment festivals is 'Preparing today's Youth for tomorrow's financial responsibility'
The Ghana Stock Exchange and the Young investors Network has embarked on National Investment Training Program aims at developing and nurturing the youth in the areas of capital markets and promotion of financial literacy among the students in Ghana. The main objective of the program is to offer training, and workshops to enhance the knowledge, core employability skills, and capabilities of students' interest in financial and other related sectors. This year our target is to impact over 100,000 students, below are the schools that have benefited from the National finance and Investment training program.
| | |
| --- | --- |
| INSTITUTION | NUMBER OF PARTICIPANTS |
| Northern Business School | 500 |
| Ghana Senior High School Tamale | 300 |
| St Charles Senior High School | 500 |
| Presec legon | 400 |
| Nungua Senior High School | 100 |
| OLAMS | 300 |
| Junior High Schools (Global money week) | 800 |
UPCOMING PROGRAMS
| | | |
| --- | --- | --- |
| DATE | PROGRAM | VENUE |
| 25TH November,2022 | Balloting | GSE |
| 30th November,2022 | Capital Market Quiz Competition | Presec Legon |
| 9th December,2022 | Stock Pitch Comp | GSE |
| 3rd December,2022 | National finance and Investment training for SHS | Koforidua |
| 10TH December2022 | Capital Market Quiz Finals Global Youth Investment Festivals | University of Ghana |
QUIZ COMPETITION
The competition is open to all SHS in Accra. The districts in Accra shall be grouped into five (5) Zones in the preliminary round. Some of the districts will be combined as a result. The best performing schools in the previous West Africa Secondary School Certificate Examinations in each of the five (5) districts forming a Zone will be selected to compete in the preliminary round. Students in the second year are eligible to compete for their schools. Students from the participating schools do not necessarily need to be studying business but rather students who are interested in pursuing careers in Economics, Business Administration and Accounting.
Thirty Schools was reached and given study materials to prepare for the quiz competition, twelve schools are participating in the quiz and and Twenty other schools from Cape Coast, Koforida, Northern region, Kumasi and Volta region expressed interest the capital but because of lack of funds we couldn't add them the competition, in all we have Twelve schools ready for the balloting on the 25th November,2022 at the Ghana Stock Exchange
Young Investor Network (YIN) is a financial education organization with a firm commitment in educating the youth on Financial Literacy and Leadership skills in Ghana and beyond. Our leadership and investment programs support a favourable business climate