The Ghana Chapter of the African Women Leaders Network (AWLN) was launched on Wednesday, 9th November, 2022 to promote women's leadership in all spheres of society and to push the country's inclusive and sustainable growth in peace and security.
The African Women Leaders Network (AWLN) is a ground-breaking movement of African women leaders. It is implemented with the support of the Office of the AU Special Envoy on Women, Peace, and Security, and of the UN Entity for Gender Equality and the Empowerment of Women (UN Women). The initiative aims to enhance the leadership of women in the transformation of Africa, in line with Africa Agenda 2063 and the 2030 Sustainable Development Goals. The network is open to women from all walks of life and aims to achieve its objectives by implementing action plans and strategies in six key areas. These are; political participation, peace and security, financial inclusion, young women's leadership, rural empowerment, and social mobilization.
It was launched in Accra by Hajia Lariba Zuweira Abudu, the Minister Designate for Gender, Children, and Social Protection, with the theme "Achieving Gender Equality and Inclusion for the Africa We Want." This makes Ghana the 31st country to join the continental movement.
Speaking at the event was Mr Charles Abani, the UN Resident Coordinator. He stated that encouraging women's participation in decision-making processes and leadership positions is a priority of the UN, as reflected in the UN Sustainable Development Goals. According to him, Women contribute to building the foundation but bear the hardest consequences of conflicts during peacekeeping time, therefore, they need to be highly recognised for their roles in conflict management and national development.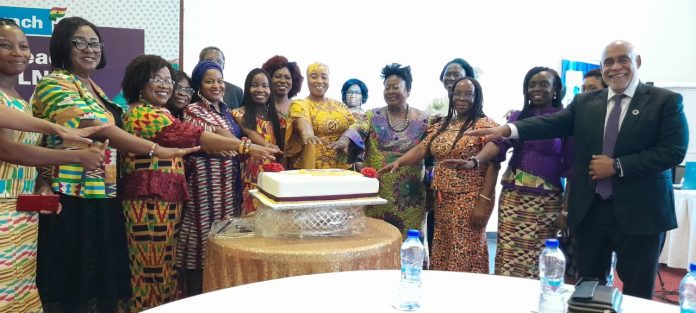 The Chairperson of the Interim Steering Committee of the AWLN Ghana Chapter, Dr Charity Binka, also stated that women need to sit at the table of decision-making, and if that is not possible, they need to create their own table. "The time has come for women in Ghana to be seen and heard at all levels", she said.
There were messages of solidarity from members of the Diplomatic Corps, the Ministry of Foreign Affairs, the Office of the President of Ghana, among others, lauding the resilience and resourcefulness of women and how their marginalization had impeded the holistic development of nations.
The ceremony was attended by women in leadership and youth groups from the private and business sectors, civil society organizations, women-led networks, the entertainment industry, traditional leaders, the media, the legal field, among others.