Christine Selikem Lassey, the 2021 University of Ghana Valedictorian has just gained admission to the Ghana School of Law to further her studies. In 2017, she gained admission to the University of Ghana to read Bachelor of Laws (LLB), aced her first year and was awarded a Lebanese Government Scholarship. Fast forward to 2021, she graduated with the highest GPA in her cohort, drawing attention to her academic prowess. To encourage anyone who looks up to her for inspiration, Christine shared the story of her journey to this point on LinkedIn.
"In 2017, I gained admission to the University of Ghana to read Bachelor of Laws (LLB). I was excited about the opportunity and vowed to devote every second of my time. I was the only person from my Highschool, so I had to branch out and make new friends. I was ready to learn from my colleagues and seniors. The valuable advice from my seniors gave me a good start in law school. I aced my first year and was awarded a Lebanese Government Scholarship.
At this point, my family and friends had high expectations for me. I could not let myself down. In my second year, I decided to write and publish legal articles. I was skeptical about putting myself out there and being subject to criticism. I agreed to co-author an article published in the University of Ghana, Law Students Journal in 2019. Wow! After making this step, I was encouraged to write more.
This time I went solo and published an article titled "April Fools Day, Liability after the Laughs".
I was propelled by the positive feedback I received from my peers and published many more articles after.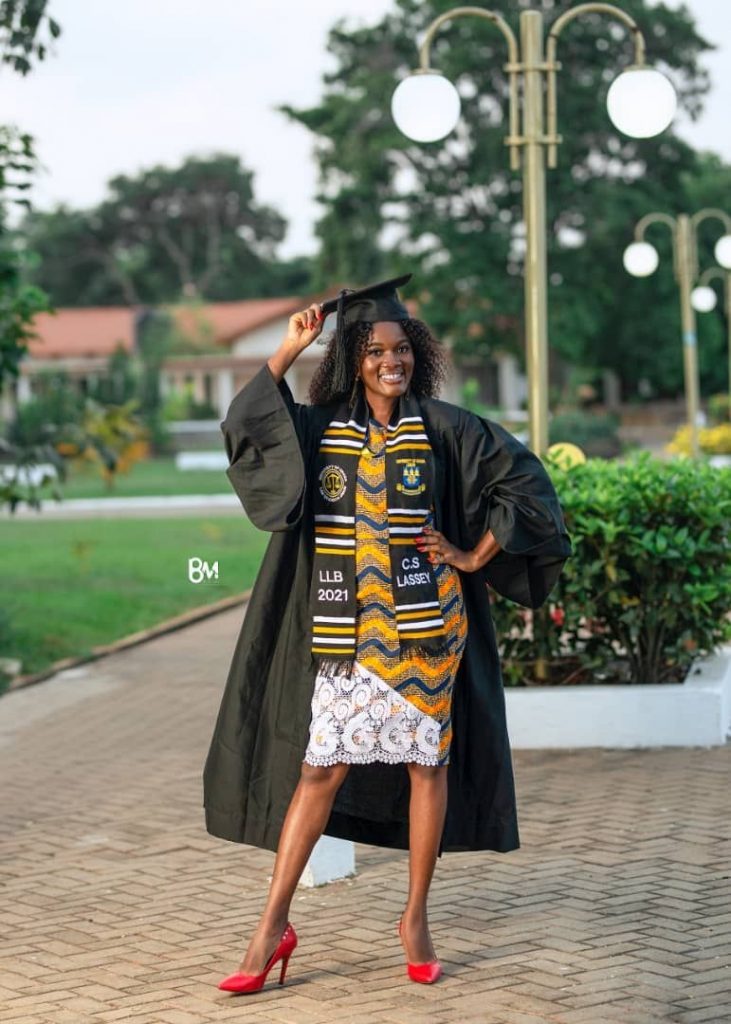 One of my bravest decisions was to represent the University of Ghana School of Law in the Law Challenge Competition. OMG! I was representing the premier University in a competition that was going to be aired on national television. Winning the contest boosted my self-confidence and assured me that anything was possible.
I was among eight students to benefit from a two-year exchange program with Harvard University Law School. This program had a research focus on educational challenges faced by the girl-child in the Northern Region of Ghana. My trip to Nantong-Kurugu and other towns in the Northern Region was an eye-opener. Despite the harsh economic conditions, the students were focused and determined to achieve their goals.
I had no excuse to fail because to who much is given, much is expected.
My final year in Law School was the most challenging in my LIFE! Before the pandemic, I had a great study plan. When teaching went online, the new academic module destabilized my entire study routine. I panicked! The academic load was unbearable. The grades I had in some courses brought me to tears. I was not going to throw away everything I had worked for. I dragged myself through the semester, and to the Glory of God, I bagged a First Class in Law and was the Valedictorian for my cohort. I lived my dream every day in school. I talked about it, walked it, and dressed it.
Before I got into the University, I read a lot of success stories. I did not think I would be writing one myself. You may not be responsible for where you are born, but you are responsible for staying there! Step out of your comfort zone and LIVE YOUR DREAM. I am grateful to God for passing the entrance exam to the Ghana School of Law. I look forward to this new phase."
With her track record, Christine will be sure to make the best of her law school period, to become the best lawyer she can ever be.